Certificate Overview
When analyzing data, economists use many of the same statistical tools as other disciplines. However, economists traditionally combine data analysis with economic models. This certificate will introduce non-Econ majors to this economic approach to data analytics.
An economist's approach to data analysis has two distinguishing features. First, economists interpret observational data through the lens of an economic model. This is usually based on the idea of individual optimization. Second, economists tend to focus on identification and causal inference more than many other disciplines. In a sense, economists ask, under what conditions can you infer that one thing is "causing" another thing, based on data.
This certificate will introduce students to this perspective and these tools, by teaching students a mix of microeconomic theory, statistics and econometrics, and hands-on experience analyzing real data.
Declaring a Certificate in Economic Analytics
Students that are not intending to be economics majors will be able to declare. There will be no requirements needed to declare this certificate, and this certificate is only for non-Econ majors. You can declare the certificate at any time.
Once you complete the form, you will know the certificate is declared because your DARS will turn more green, you will see all of the econ academic advisors assigned to you, and you'll get a confirmation email.

Declare a Certificate (Fillable Form)
Summer Courses
Looking to get ahead in completing your certificate requirements by enrolling in Summer courses? All of our courses taught during the Summer will be offered online. Check out which certificate courses are going to be offered and learn a little bit about each course here.
Meet with an Advisor!
If you're wondering how this certificate can fit into your academic plans, be sure to meet with an advisor! Our Academic Advisors can help you create an academic plan and ensure you are making the most of your academic experience.
Frequently Asked Questions
This is an accordion element with a series of buttons that open and close related content panels.
I completed the certificate declaration form but still have not been declared. When should I expect to be declared?
We will process all declaration requests on Fridays as best we can. You can expect to receive notification that your certificate has been declared by the end of the week that you complete the form.
I don't have credit for Econ 310, but I have one of the other Statistics sequences. How can I enroll in Econ 410?
You must contact an economics advisor (econadvise@ssc.wisc.edu) to obtain permission to enroll in Econ 410. You must specify your campus ID number, class lecture and preferred discussion section as well. Keep in mind, permission into 410 in this case is NOT a guarantee of enrollment.
I have completed Econ 400/410 but not one of the required Statistic sequences for the certificate. Do I have to complete one of the sequences?
Yes! If you have completed Econ 400/410 because you had another substitute Statistics class, you are still required to complete Econ 310, Stat 240/340, OR Stat 303/333. We recommend that any student who has completed the Econometrics requirement but not the Statistics requirement to complete Stat 303/333.
Students MUST complete one of the three required Stats sequences (Econ 310, Stat 240/340, OR Stat 303/333).
What is Econ 695 and why are there multiple Econ 695's to choose from?
Econ 695 is a Data-Related Economics Elective topics course with sections/discussions that change each semester. There are multiple sections of Econ 695 and any section will count towards the certificate requirement.
I am on the waitlist for a Data-Related Economics Elective. What do I do?
The Data-Related Economics Electives and other high-demand courses many times do have wait lists that students may register for. Students are not guaranteed a seat in the class if they enroll on the waitlist. As space becomes available, graduating Economic Analytics certificate students will have preference.
If you are offered a spot off of the waitlist, you will receive an email from our office instructing you to enroll in the course.
Questions regarding the waitlist for an economics course may be directed to econadvise@ssc.wisc.edu.
Questions about the general use of a wait list should be referred to the Enrollment Helpline in the Office of the Registrar.
Why am I getting this error message when I try to enroll in an Economics class that is 4 credits (for example, Econ 570): "Enrollment Requisites are not met. Undergraduate enrollment only. Undergraduates must enroll for 4 credits"?
You are likely getting this error message because you didn't select to take the class for 4 credits. This is an extra step you'll need to take to be able to successfully add this course to your cart. You can see below a screen shot of where in Course Search you'll be able to select to take it for 4 credits (click on the course, click "see sections", then click on the discussion section you want. You will then see a drop-down menu under "course options" where you can select 4 credits).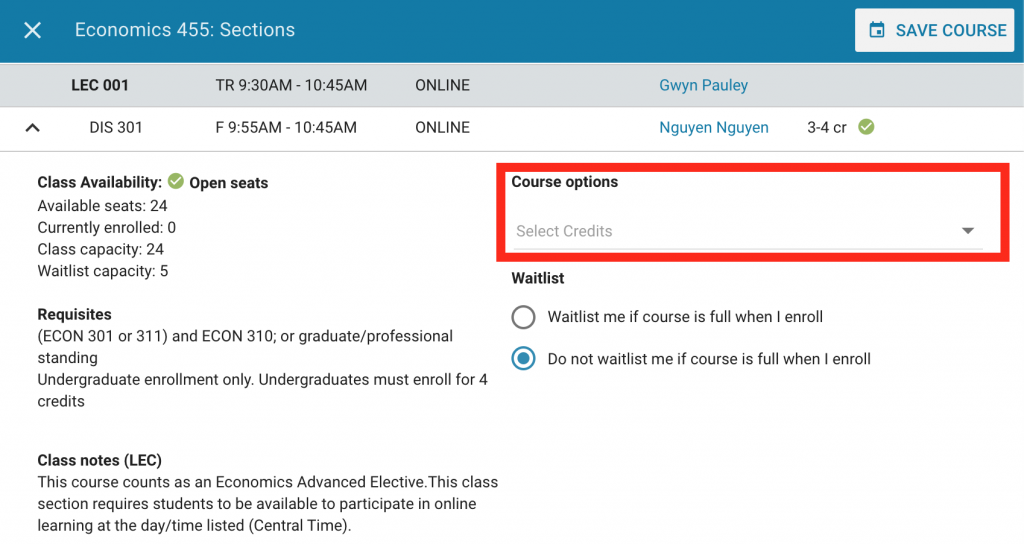 When can I declare the Certificate in Economic Analytics?
Non-Economics majors can declare the certificate at any time! There are no requirements to declare the certificate. All you need to do is complete the form.
If I am declared in a Cert in Econ Analytics can I pursue the Economics major instead?
Absolutely! You can contact an economics advisor (econadvise@ssc.wisc.edu) to have the certificate dropped, and then follow the steps to declare the major here!
I've decided to not complete the certificate. How do I drop it?
You must contact an economics advisor (econadvise@ssc.wisc.edu) to have the certificate dropped.