Employers and most graduate schools want to see that you have gained experience and been involved while pursuing your studies. The transferable and technical skills you gain through part-time jobs, internships, student organizations, and volunteer experiences make you a stronger candidate and help you gain clarity on your career goals.  Below, we highlight resources to help you identify opportunities for jobs, internships, volunteering, and on-campus involvement.
If you aren't sure what types of positions to be looking for or want to learn more about common career paths for econ students, review our Explore Careers in Economics section or make a career advising appointment!
International students should review ISS's Employment section to learn about their employment eligibility/authorization options and read this helpful How to Talk to Employers document.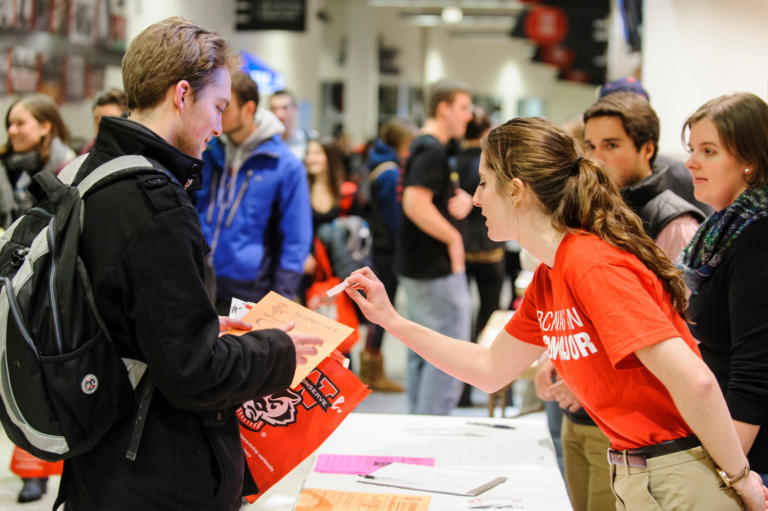 Networking is a critical, yet often overlooked, step in your job or internship search. It's commonly estimated about 70-80% of positions are never published, rather they are filled by personal connections or referrals.  To improve your chances at accessing this "hidden job market", connecting with individuals in your network and field of interest is crucial to your career success.  
An easy way to begin networking is by conducting informational meetings/interviews with alumni or individuals who are working in a position/company you are interested in.  Review the Step-by-Step Guide for Your First Informational Interview and use UW-Madison's Alumni Career Insights page on LinkedIn to find contacts to reach out to.  
If you aren't sure how to initiate contact with folks in your network, review our guidelines on how to professionally reach out to contacts.
Additional opportunities for networking include attending events hosted by our office, Career & Internship Fairs, and employer events posted on Handshake and hosted by SuccessWorks. Don't be shy to discuss your career goals with peers, family, faculty, and friends – you likely have a stronger network than you realize!
There are many resources out there to find jobs and internships, it can be a bit dizzying!  Based on our review of resources and feedback from students, here are our top resources to find jobs & internships:
Review where UW Econ students have interned or been hired full-time
Read our weekly newsletter sent from the Department which includes internships and full-time opportunities
Attend Career & Internship Fairs to network with company representatives and gain insider information about opportunities.  Prepare in advance with the Career Fair Guide.
Handshake is an online system where companies looking to recruit UW-Madison students post internships and full-time positions.  You can also sign-up for on-campus interviews and find out about companies visiting campus for information sessions. Register for a Handshake account

HERE.

Job Search in China: GUCCU is job portal for UW-Madison students looking for positions (full-time and internships) in China. In addition to job opportunities, students have access to career related events and workshops hosted by GUCCU.
UW-Madison Student Job Center

has listings for both on- and off-campus positions, including part-time and internship opportunities.

International Internship Program

offers UW-Madison students the chance to intern abroad

and typically get academic credit for the experience

Wisconsin in Washington, D.C. Program

allows UW-Madison students to spend a semester or summer interning in Washington, DC, focusing on domestic or international policy issues

Indeed.com

and

LinkedIn

are broad job search sites where you can search by keyword, job title, and geographic location

UW-Madison Career Communities

highlight online resources to access opportunities in Government, Politics, Policy & Law, NonProfit Management, Data & Analytics and MORE.  A few commonly used sites for econ students includes:
Interested in working at a specific company or organization? Search online for that company/organization name followed by "careers" or "internships" to learn about opportunities and follow the company on LinkedIn.
Once you start networking and applying for internships or jobs, interviews can come quickly! Learn tips on how to best prepare and practice so you WOW employers.