Academic Advising and Drop-In Hours
Spring 2020
Due to campus guidelines on COVID-19, our academic advising services are currently conducted online via email, google hangouts, or over the phone beginning March 23rd.
Drop-in advising is available for ALL students from 10:00am – 12:00pm, Tuesdays – Fridays, via 15-minute appointment times scheduled through Starfish with Alicia Johanning, Erin Pankow, or Nick Bourke.  Economics majors have the additional option of scheduling 15 or 30 minute individual appointments through Starfish.
Summer 2020
During the summer, from May 11th – August 14th, both declared and undeclared students may schedule individual appointments with our academic advisors (Alicia Johanning, Nick Bourke, and Erin Pankow) via Starfish.
Email: econadvise@ssc.wisc.edu
Phone: 608-571-4965
Students who are declared in economics can schedule appointments online with Nick Bourke, Alicia Johanning, or Erin Pankow using the Starfish app in MyUW.
Log in to your MyUW
Open the Starfish app (if you do not see it, you can begin by searching for it in MyUW and adding it to your dashboard)
Within the Starfish app, select an economics advisor's name and find an available date and time.
More help on using Starfish can be found here. If you have any questions or issues, you can email econadvise@ssc.wisc.edu.
1. Meet the following requirements before declaring the major:
Complete at least two economics courses on the UW-Madison campus.
Complete a calculus course.
Earn a minimum GPA of 2.0 in all completed economics and calculus courses.
2. Complete the online declaration form and schedule an appointment with an advisor via Starfish.
Students looking to declare should schedule a 15 minute drop in advising appointment with an advisor to declare! Must sign up online.
Following campus guidelines on COVID-19, our office is currently closed.  To contact us you may:
Email econadvise@ssc.wisc.edu for general questions
Schedule an appointment via Starfish with one of our advisors
Call our undergraduate program coordinator at 608-571-4965
Question: How many credits is Econ 522?
Answer: All UGRDs must take Econ 522 as 4 CR (the 4th CR is your discussion section) 
Question: Why can I not enroll in Econ 690?
Answer: Econ 690 is a topics course with sections/discussions that change semester to semester. This semester, Fall 2020, all Econ 690s are for Masters Students Only. Right now, there is nothing on the books for an UGRD Econ 690 class. Should changes occur, we will inform you all via email.
Question: Why will it not let me enroll in Econ 306?
Answer: This class, along with Econ 300, 320, and 420 are actually owned by the Wisconsin School of Business; they are merely cross-listed with Economics. Declared Business or Certificate in Business students can enroll first, and non-BBA or certificate students (you) can enroll afterward. Look at each Class Notes section on Course Search and Enroll to identify the date in which you can enroll (likely late April or early May).
Question: I want to enroll in a Masters class – what do I do?
Answer: You need permission from the instructor (or instructors) of that particular course. You should email that approval to both EconAdvise and Tchai Veu (veu@wisc.edu) to have your permission entered in the system.  Remember, this is an ASK of the professor, not a guarantee. 
Question: I don't have credit for Econ 310, but I have a substitute class. What do I do to get into a class that requires Econ 310 as a pre-req?
Answer: You must contact an economics advisor (econadvise@ssc.wisc.edu) to obtain permission to enroll in such a course. You must specify your campus ID number, class lecture and preferred discussion section too. A permission into a class in this case is NOT a guarantee of enrollment. 
Question: On the course search and enroll app it says that Econ 521 and 464 are intermediate level classes, but on the guide, DARS, and the Econ website,  it lists them as Advanced. What is this?
Answer: the Course Search and Enroll App listing for intermediate and advanced level is NOT the same as the Advanced Economics Electives! One is an L&S categorization tool and another is the requirement for the major. If you are looking for an Advanced Economics Elective use your DARS as your only guide!   Econ 464 and 521 ARE Advanced Economics Electives. 
For a full listing of our advanced electives, please see this page: https://econ.wisc.edu/undergraduate/majoring-in-economics/
Question: When I apply to graduate it doesn't list Economics as my major. Why?!
Answer: There could be 2 reasons here. 1) You didn't declare Economics as your major OR 2) your other major is outside of the College of Letters and Science (example: if you are majoring in finance and economics you will only see finance. Finance is in the WSoB and, as such, your home school where you are earning your degree from. Additionally, you will NOT see your certificates listed under your application for graduation. 
Question: What is the drop deadline for Spring 2020?
Answer: all deadline and timeline information can be found here: https://registrar.wisc.edu/dates/
Question: I need permission into a class because I do not meet the pre-requisite (certain class, honors only, instructor consent, or related). How do I get such a permission?
Answer: the best thing you can do is email econadvise@ssc.wisc.edu with your campus ID number and situation. From here, an advisor will either give you a permission or inform you of the next steps to take before a permission can, or could, be given. Remember, this is just a permission to enroll in the course. YOU (student) must enroll in the course through Course Search and Enroll, like with any other course. A permission may not guarantee you a spot into a course.
Meet the Undergraduate Team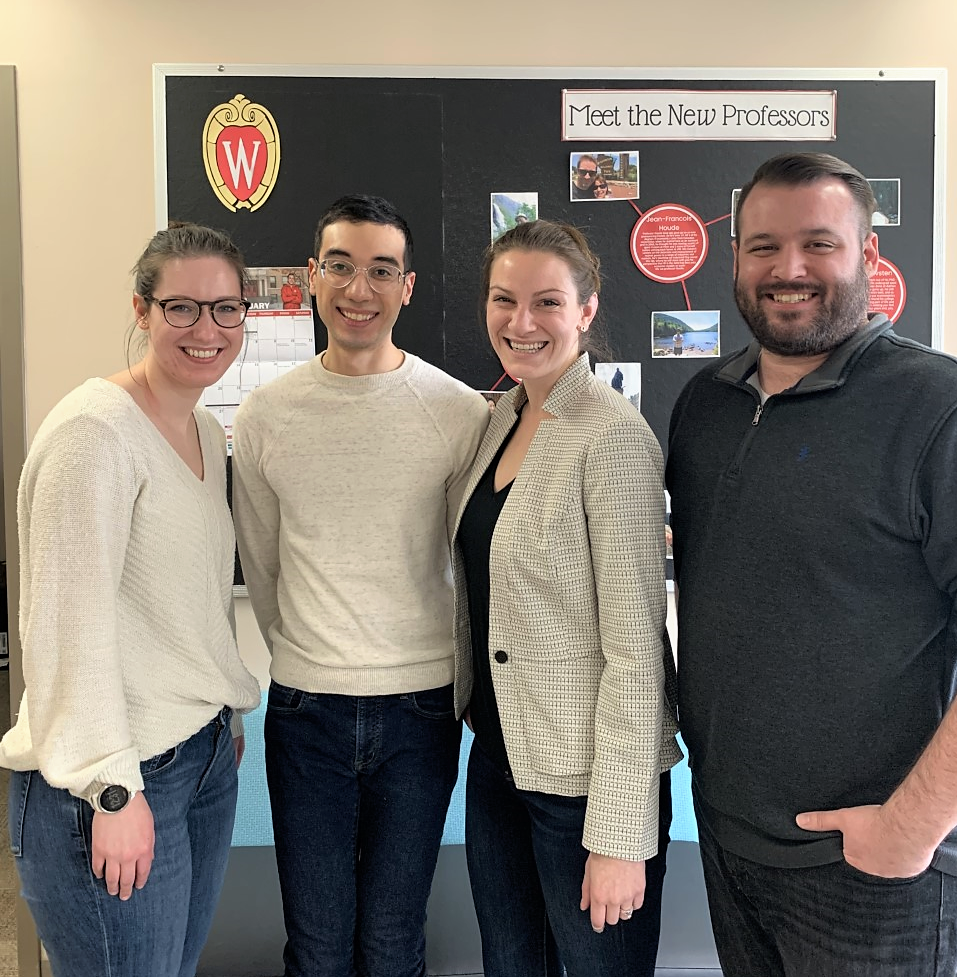 STAFF:
Undergraduate Program Coordinator
The undergraduate program coordinator, Brian Brannon can help you with course enrollment, class permissions, department scholarships, and general department questions.

Contact Information:
Brian Brannon
bbrannon@wisc.edu
econadvise@ssc.wisc.edu
608-262-6925
7238 Social Sciences
Academic Advisors
Our academic advisors can help you create an academic plan, plan for study abroad, choose enjoyable and meaningful courses, make the most of your student experience, and assist you with any other academic or life issues.

Contact Information:
Alicia Johanning (Bingen)
alicia.johanning@wisc.edu
608-262-8762
7238 Social Sciences
Nick Bourke
nbourke@wisc.edu
608-262-5643
7238 Social Sciences
Erin Pankow
erin.pankow@wisc.edu
608-262-2476
7238 Social Sciences