Drop-In Advising
Drop-in advising is available IN PERSON for all students, regardless of your major, Tuesday and Thursday from 10 a.m. – 12 p.m. and Wednesday from 10 a.m. – 12 p.m., 2 – 4 p.m. Please see the tab below for more information regarding advising.
Scheduled Advising Appointments
Declared AND non-declared students can schedule an in-person or virtual advising appointment with an Academic Advisor. All advising appointments should be scheduled through Starfish.
Declared Econ majors:
After you select an advisor to meet with on Starfish you will have the option to see time slots for "All Students" and "Assigned Students Only." Be sure to select "Assigned Students Only" to see time slots designated for only declared majors. There will be more options!
Email: econadvise@ssc.wisc.edu
Phone: (608) 262-6925
Academic Advising
Drop-in Advising
The Economics Undergraduate Academic Advising Office will be offering in-person and limited virtual drop-in hours this Spring! Our office hours are designed to best accommodate more of your schedules, and while we cannot accommodate all of you, we hope that you will email us at econadvise@ssc.wisc.edu if you truly find that none of our drop-in or scheduled appointment times work for you.
Drop-in in person only hours will be:
Tuesday and Thursday: 10-12 PM in 7238 Social Sciences
Wednesday, 10-12 PM and 2-4 PM in 7238 Social Sciences (all-day drop-in advising!)
Drop-in virtual hours will be:
Tuesday: 10-12 PM via Zoom
The vast majority of our scheduled appointments will be for declared majors- a benefit of declaring!- but we will have limited availability for non-declared scheduled appointments as well. As usual, please sign up for academic advising appointments proactively with Nick, Madison, or Alicia. Each advisor's availability will look different week to week so please use the chart below as a guide to general advisor availability.
What is the difference between drop-in hours and scheduled appointments?
Drop-in hours: these are times held on all Academic Advisors' calendars for students dropping in for their "quick questions". Good quick questions are confirmations on schedules, ensuring a class counts for a certain type of credit, getting a form signed, or just "check-ins". Ideally, most drop-in appointments should be about 15 minutes so we can serve as many students as possible who show up during our drop-in hour time period. Please note that during busy times our drop-in hours get very busy- some students wait over an hour- and so come as early as possible as we will occasionally shut down hours before official drop-in-hours-end as there are many students still waiting in line.
Scheduled appointments: these are for longer conversations as you have an entire half hour! If you are exploring Economics and want to learn more about the program, thinking about declaring but want to discuss 4-year plans, double majoring, studying abroad, talking research or honors, or anything else that isn't a "quick chat!" is perfect for scheduled appointment times!
When in doubt of what academic advising option is best for you, schedule an appointment or just send us an email at econadvise@ssc.wisc.edu and we'll point you in the right direction of what you should do 😊
Scheduled Advising Appointments
Declared AND non-declared students may schedule appointments through Starfish with our academic advisors, Nick Bourke, Madison Hartup, or Alicia Johanning. Students have the option to have either an in-person or virtual advising appointment. Please see the corresponding tabs in this section for more information.
Log in to your MyUW
Open the Starfish app (if you do not see it, you can begin by searching for it in MyUW and adding it to your dashboard)
Within the Starfish app, select an economics advisor's name and find an available date and time.
More help on using Starfish can be found here. If you have any questions or issues, you can email econadvise@ssc.wisc.edu.
Career Advising
For career advising, you can schedule an appointment with one of our Economics Career Advisors, Elizabeth Foste or Ilsa May. Find more information about career advising here.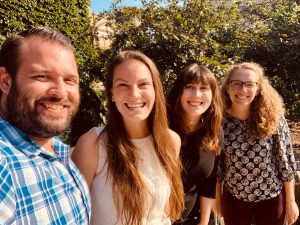 Meet the Undergraduate Team
Academic Advisors
Our academic advisors can help you create an academic plan, plan for study abroad, choose enjoyable and meaningful courses, make the most of your student experience, and assist you with any other academic or life issues.

Contact Information:
Alicia Johanning (she/her/hers)
alicia.johanning@wisc.edu
608-262-8762
7238 Social Sciences
Nick Bourke (he/him/his)
nbourke@wisc.edu
608-262-5643
7238 Social Sciences
Madison Hartup (she/her/hers)
madison.hartup@wisc.edu
608-262-2476
7238 Social Sciences
Undergraduate Program Coordinator
The undergraduate program coordinator can help you with course enrollment, class permissions, department scholarships, and general department questions.
Carly Siewert (she/her/hers)
csiewert3@wisc.edu
608-262-6925
7238 Social Sciences